Preventing Water Damage | Floods From Plumbing Failure | Floods From Fire Recovery
Flood Repair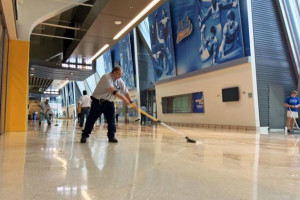 Floods can result from a variety of causes, from pipe leaks to torrential rainstorms. No matter what the source, the damage that water leaves behind can be devastating.
For Seattle homeowners, flood waters could mean the family needs to relocate either permanently or temporarily; for business owners, water damage repair can halt operations. In the end, the faster the restoration process begins, the better.
The contractors at Allied Restoration Company have the training and tools needed to clean flood waters and debris, identify the cause and prevent the issue from returning. With our competitive prices and comprehensive services package, you can be sure the job will get done right the first time—and within budget.
Preventing Water Damage
In Seattle, flood damage is a very real concern. That's why Allied Restoration Company offers pre-disaster prevention services to make sure you're ready for Mother Nature's worst.
Our technicians will assess your property to identify any potential threats or weaknesses. We'll also examine your insurance plan to make sure you're adequately covered. From here, we'll go over a plan of action in case floods damage your property, which will prevent any surprises and help ensure that you receive fair payout from your insurance claim.
Floods From Plumbing Failure
Rainstorms aren't the only sources of destructive floods; sometimes, the real risk is already on the property. Old and faulty pipes, as well as malfunctioning hot-water heaters, can lead to extensive water damage.
If you've fallen victim to one of these issues, contact Allied Restoration Company, and we'll address the problem quickly and professionally. This will prevent the development of mold and ensure other structural damage doesn't progress.
Floods From Fire Recovery
Falling victim to a fire is disheartening enough without worrying about the post-extinguish cleanup. Unfortunately, all that water can severely harm a building's structure and interior belongings.
Our contractors will assess the damage, extract the water and then, using a combination of drying and dehumidification strategies, they will attempt to restore furniture, appliances, books, documents and other belongings.
In cities as rainy as Seattle, business- and homeowners who ignore the threat of floods are taking a serious risk. To learn about disaster pre-planning, or to schedule an emergency flood restoration appointment, contact Allied Restoration Company at 425-458-5756.